I was stumbling around the other day, seeing if I could load Blitz on my Amazon Fire 7, and failing as it only had 8GB memory, and try as I might I just could not free up enough space to make the game happy...when I noticed a little statement that suddenly peeked my interest.. Have a look below...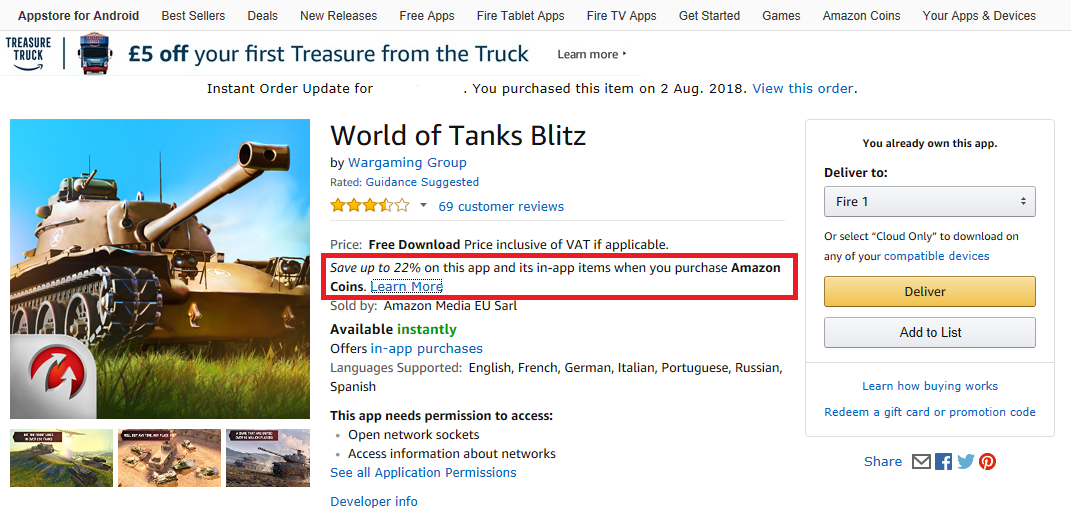 So the idea of saving 22% off in-app purchases lit my fire, who would not want to save money on their in-app purchases...how does this work? Click on Learn more to find out...and you get the following page.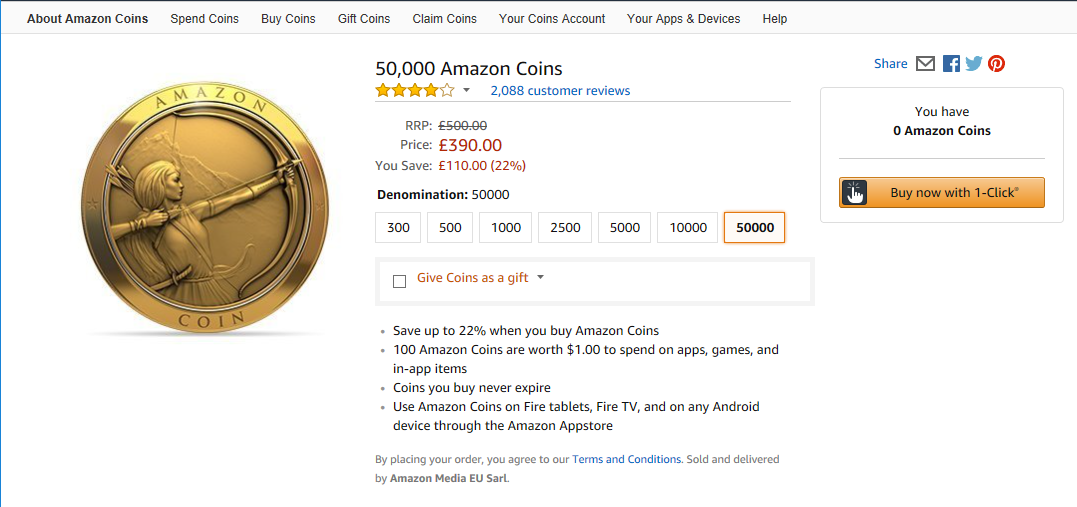 This seems to work very much like gold does in world of tanks, but allows you to bulk buy Amazon coins for use on in game purchases.
Bundles are as follows....
| | | | | |
| --- | --- | --- | --- | --- |
| Bundle Size | Bundle Cost | Saving | Saving Amount | Coin Value |
| 300 | £2.67 | 11% | £0.33 | £0.0089 |
| 500 | £4.35 | 13% | £0.65 | £0.0087 |
| 1000 | £8.60 | 14% | £1.40 | £0.0086 |
| 2500 | £21.25 | 15% | £3.75 | £0.0085 |
| 5000 | £42.00 | 16% | £8.00 | £0.0084 |
| 10000 | £82 | 18% | £18 | £0.0082 |
| 50000 | £390 | 22% | £110 | £0.0078 |
Coins are valued at £0.01 each, so even a 300 coin bundle saves a little bit of money.
The sweet spot for me, spending £80 and getting 10,000 coins. Saves 20% off any in-game purchases automatically using those coins. Now that's all well and good on the surface, but as I didn't have a Fire tablet big enough to play blitz on, well I went and bought one to try it out.....
What comes next is going to shock many of you, especially our iOS player base, and I have a feeling the Google play store player base as well.
.....let's start by looking at the price of something stable in blitz, gold. I'll use the Apple device in game pricing here in the UK as that's what I have access to, I will bet you will see the same in all currencies and territories.
So here is the gold costs in the iOS store....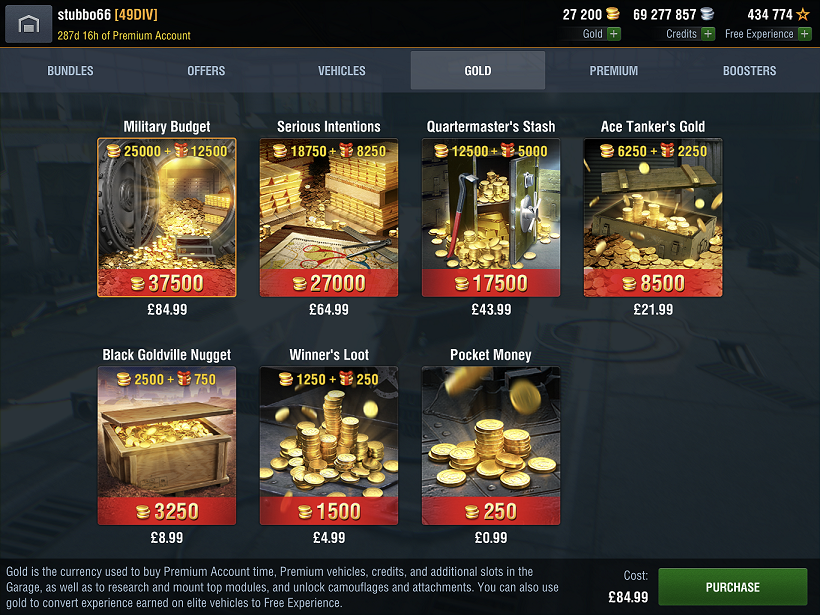 OK, that's everything we've come to know about buying gold on iOS, it's not cheap, but it is what it is. So let's look at Amazons app store prices......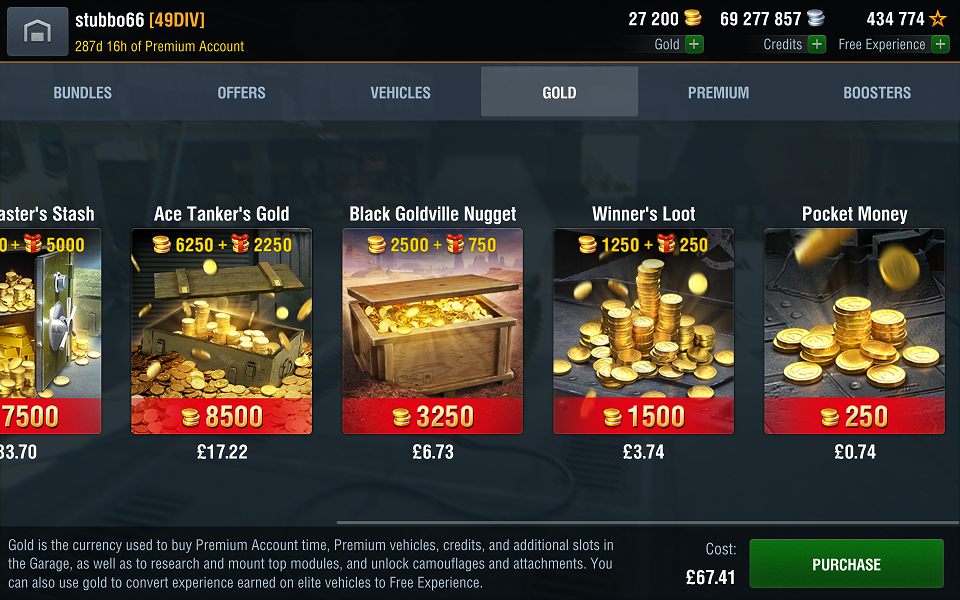 Hang on a cotton picking minute......that's a pretty huge difference in price for exactly the same gold bundles.....let's line them up to compare them.
| | | | | | | |
| --- | --- | --- | --- | --- | --- | --- |
| Bundle | Apple Price | Amazon Price | Difference | Percentage saved | Apple coin value | Amazon Coin value |
| 250 | £0.99 | £0.74 | £0.25 | 25% | £0.00396 | £0.00296 |
| 1250+250 | £4.99 | £3.74 | £1.25 | 25% | £0.00332 | £0.00249 |
| 2500+750 | £8.99 | £6.73 | £2.26 | 25% | £0.00276 | £0.00207 |
| 6250+2250 | £21.99 | £17.22 | £4.77 | 21.7% | £0.00258 | £0.00202 |
| 12500+5000 | £43.99 | £33.20 | £10.79 | 24.5% | £0.00251 | £0.00189 |
| 18750+8250 | £64.99 | £52.43 | £12.56 | 19.3% | £0.00240 | £0.00194 |
| 25000+12500 | £84.99 | £67.41 | £17.58 | 20.7% | £0.00226 | £0.00179 |
Wow, that's a huge saving on gold. But something I must make very clear here, this is not down to wargaming....this is down to Amazon not fleecing players by putting on exorbitant markups on in-game content prices like Apple does.
Let's put this into some perspective......
Currently, in-game you can buy the Ice and Flame bundle for 16,000 gold.....using apples best price that would cost £36.16, but using gold bought from Amazon it would only cost £28.64 a savng of £7.52 (20.7%)
At this moment I'm gobsmacked.....but it gets better. It doesn't just apply to gold purchases, have a look at the difference in the bundle costs on offer at the moment. Apple first....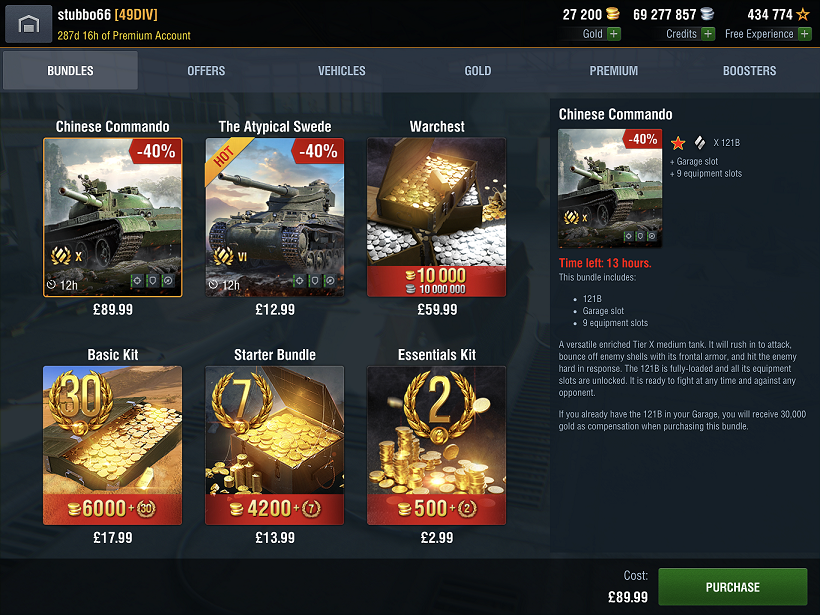 So, hold on to your hats...here are the Amazon prices....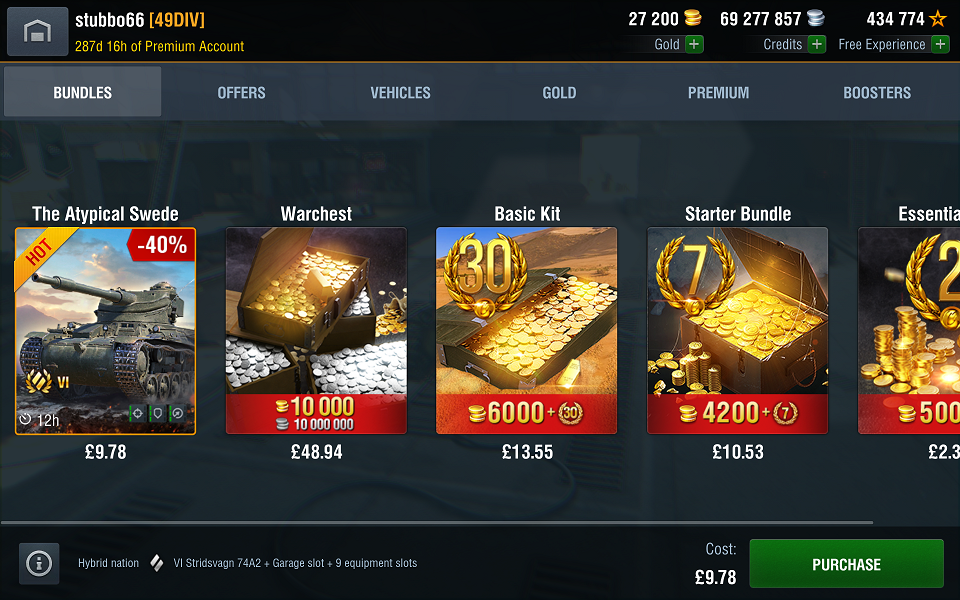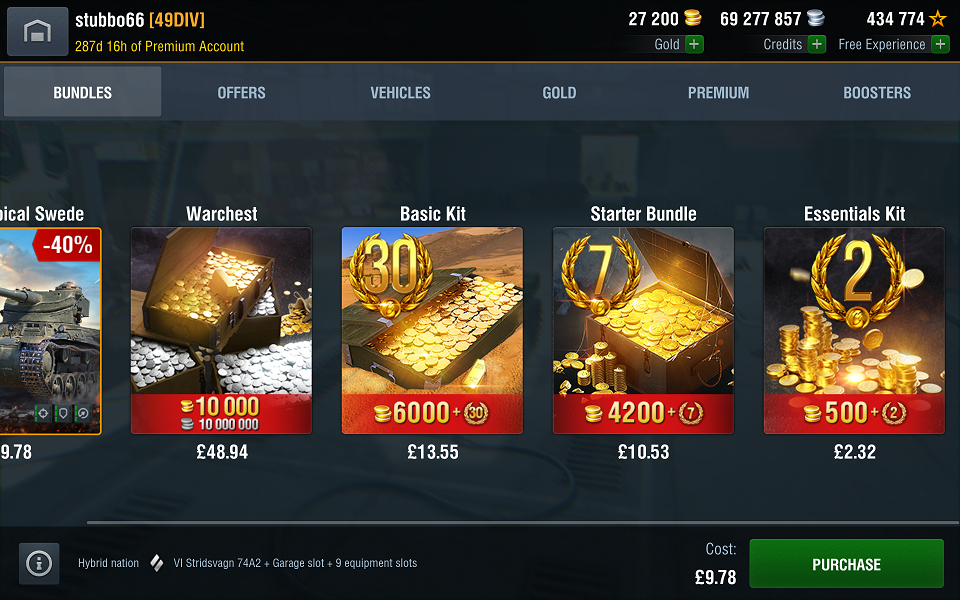 Now I can't explain why the 121B isn't listed in the store, I'll look into that....but just look at all the price differences again....I'll sumarise them all below.
| | | | | |
| --- | --- | --- | --- | --- |
| Bundle | Apple Price | Amazon Price | Difference | % Saving |
| 121B | £89.99 | Not listed |   |   |
| Stridsvagn | £12.99 | £9.78 | £3.21 | 24.7% |
| Warchest | £59.99 | £48.94 | £11.05 | 18.42% |
| Basic Kit | £17.99 | £13.55 | £4.44 | 24.7% |
| Starter Bundle | £13.99 | £10.53 | £3.46 | 24.7% |
| Essential Kit | £2.99 | £2.32 | £0.67 | 22.4% |
So you can save 25% roughly on the cost of purchasing your tanks as well....this is massive.
So far, so very, very good. But remember at the start of the article, I was originally peaked by the idea of using amazon gold to save on in game purchases. Let's buy some gold to see how it works....
On Amazon, I bought the 1000 coin bundle for £8.60...then on Blitz, I bought the 2500+750 gold bundle for 673 amazon coins (it's very easy as the app pops up the amazon store payment window and the coins are the default option).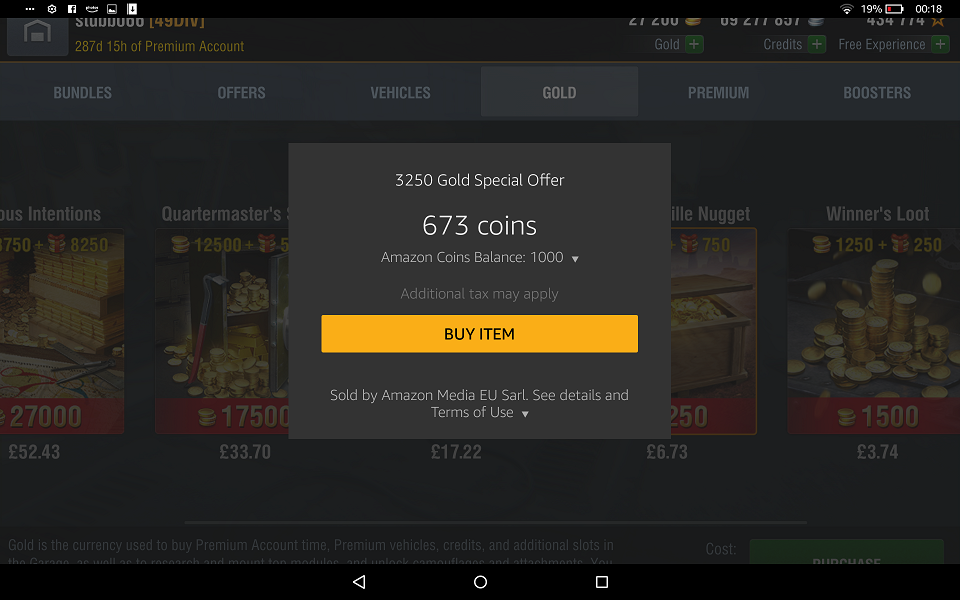 Now because I was spending Amazon coins, and not £6.73 the bundle is listed for in the app store, those 673 coins only really cost me £5.78 (673 x £0.86, a further saving on the Amazon in game price of £0.95 and a whopping saving of £3.21 over the Apple in store price of £8.99 or 35.7%....that's just mind blowing.
So let's apply it to something really big and see what the saving would be. I'm going to go mad and buy a lot of gold....
I start by spending £82 for 10,000 gold coins in amazon store. Each coin costs 82p, but is worth £1. Remember this.
Now I buy the 37500 gold bundle, that on the Amazon store is £67.41 for 6741 amazon coins (which really only cost me £55.27
So for a bundle that would have cost me £84.99 on Apple, it has now only cost me £55.27, saving £29.72 or 34.97%
I will never buy anything in game on my Apple device again. And I stress this very clearly, this is not of Wargamings doing, this is entirely down to the money grabbing of Apple, and the entirely reasonable policies for online gaming applied by Amazon.
I would also watch Amazon regularly, in case they have offers on the gold coins. And if you have other games you play on the iPad that are also available on Amazon Play, do the same, you will save yourself a fortune.
I estimate that in a year alone, for an avid collector, and occasional crate gambler, this could easily save £300-400 ., and all for the cost of an Amazon fire tablet. You'll need a minimum of 16GB from my experience, which you can get as cheaply as £59.99 with Amazon offers, or £69.99 without, plus you have another tablet to play tanks on.....win-win !!!!
This puts a whole new spin on the economics articles, as the emphasis will move away from WG (though we'll keep a close eye) and much more on to Apple (and I presume google). If anyone can confirm googles pricing if it mirrors Apple or Amazon that would be very helpful.
I might be able to afford a little weekend away with the wife with what I'll save this year...all thanks to Amazon....everyone's a winner!
Addendum.....
I found out that Apple and Google both take a 30% cut of all in app sales, or to put it another way, WG have to take their base price for the item they sell and increase it by early 43% to get the value they actually want for the item being sold.
On Amazon however, they only take 11.75% of the sale, so WG only needs to increase their base price by 13.3% which is a heck of a lot less.
A quick example of how that works. Let's take the 121B in store for £89.99. Both Apple and Google would take 30% of that (£27 ... sheesh), so WG cut is only £62.99
Because of Amazons rates,WG only need to increase the price to £71.38 to give Amazon their cut of £8.39 and WG still gets their £62.99
I applaud Amazon loudly hear, they are taking a cut, but they do have to supply and maintain the infrastructure to support the game stores, but they aren't being the money grabbing trillionaires that Apple and Google are.
If you can't get it working in your country, then there is another option, credit to Jukkis74 for this one (later in the thread).
Replying to myself since this can be of use for others:
A further update, thanks to Jukkis74 for working this out. For those that can't access the Amazon Coins in their local currency, you can use two Amazon UK accounts and eGift cards to get the job done. Here's how it works.....
Create two accounts on Amazon UK (It has to be the UK amazon to get the coins, or could be the US Amazon if the deals are better I guess), you'll need two different email addresses for this to create the two accounts.
Create account 1, this is the account you want to use on the device you'll have the game loaded on so the app store will be linked to it. Do not set up any payment method on here (you won't need to). This Amazon UK account will need to be set up with a UK delivery address to allow it to get UK pricing in the app store later. Ideally get permission of someone you know in the UK to do this otherwise you may breach Amazon conditions.
Now create account 2, you register your normal payment method, credit card etc. from your local country and local delivery address. With this account you buy eGift cards up to the amount you want to spend. Now from account 2, buy an eCard. Then log back in to go to account 1 and claim it. This will add the funds to your account allowing you to purchase the Amazon gold coins.
Both accounts have to be on Amazon UK as Amazon gift cards bought on the UK store can only be spent in the Amazon UK store (this is the trick).
Now on the device with the Amazon app store installed, make sure you are logged on to that app store with account 1, and once in the game you'll find those Amazon coins area available to make purchases with, and anyone in any country now can get the benefit of those coins to buy cheap gold.
These Amazon coins can also be used to buy bundles that are charged in cash as well as gold so should provide all the means necessary to save money.
This has been a great community effort to get this far and make savings for all.
I'll stress that you should get create legal accounts on Amazon to make the appropriate purchases, not doing so could potentially have Amazon wanting to close your accounts .. but that decision is yours alone.
Edited by stubbo66, 24 July 2019 - 11:35 PM.