OK, I right this guide purely from my opinions and my experience, I do not claim to be an expert and I am not preaching in anyway on how you should do this and do that but these two tanks get a lot of bad feedback for being "Poor" tanks however I really do not think they are. All tanks are "balanced" by WG to be all alike in some shape or form so I think playing these tanks well makes them very formidable. Im not disputing they are challenging tanks to drive but as a result are very rewarding to play I think however this does not make then rubbish tanks, I actually really love the Caernarvon to play, its the underdog

Now, I am grouping the Centurion and the Caernarvon together as in my opinion they play exactly the same, the only difference in my play style on these is I am more aggressive with the Caernarvon which I will detail at the bottom in differences, but as a result my guide predominately targets the Caernarvon. Now as I said above i am no expert however for such poor tanks I have managed to get a 1755 average damage with 60.29% win ratio and on the Caernarvon 1849  and52.73% Win ratio, over 5  mastery badges and I am an average player.

The Caernarvon is really hard stock but you need to bear with it and upgrade to start to enjoy this tank much more. You need all upgraded on this tank and its brilliant if played well I think, do not try grind this tank without the upgrades


CAERNARVON UPGRADES
- MAJOR ADVANTAGE AND WHICH UPGRADES TO GET FIRST

The guns on both these tanks are the same, as a result grinding them both means the grind is easier on one as you unlock the gun on the other. When I bought my Caernarvon I had already unlocked the Gun on my Cent so I upgraded in the following order:

Turret
tracks
engines
Tier 9 gun (Unlocks it on conqueror and on centurion mk7/1)


-RELOAD TIMES TO YOUR ADVANTAGE
If you look at the stats and the upgraded Tier 9 gun on this tank you will see a trivial difference in comparison to the gun below it however getting this gun had a major impact on the time I was left out in the open and the aim time and load time is nuts...In perspective I always use gun rammer for the extra 10% coupled with this gun and 80% crew I can take two shots in the time it takes an IS3 to hit me once. As an example I will hit the tank as he trys to hit me, then as he ducks for cover I am already back out of cover already loaded and accurate ready for when he starts to pop out. I can shoot, hit direct on target and already be starting to pull into cover the by time he is fully out and waiting for his load time to get a good shot, as a result its often a miss on me, Sometimes I get lucky and manage another shot as they are pulling in....if not then im already in place again ready to fire when they come out.

Until you get to the Tier 9 gun you can still use the above tactics perfectly but you may be hit more often

CENTURION UPGRADES
For myself I went for the best turret and gun first then went for the tracks and engine however I did struggle without the tracks for a while and this tank really will climb anything upgraded. So based on this I would actually say to pick whichever suits you and your play style except for the turret.

The turret on this tank is its saviour and really comes into its own using the below tactics.

ESSENTIAL CENTURION AND CAERNARVON TACTICS

- DEPRESSION!!!!! DEPRESSION!!!!! DEPRESSION!!!!!

These tanks have superb depression and this is really where you need to work the tank more than anything, use all terrain to your advantage as much as you can and rather than play peek a boo from the side of rocks and buildings etc and showing the soft bits climb the rock/ banking etc and shoot. The gun is so accurate you spend very little time with the turret out. Coupled with the very quick reloads you are constantly up and back down making you a much harder target to.

Due to the angle of the turret you do get a lot of bounces, I was very surprised to bounce a good few tier x TD's shots, it actually made me laugh as I should have been dead I thought.

Below is an example of the angle I mean, you can do this anywhere on any map really as long as their is a bank, a hill etc etc

.....Yes it is an appalling picture but I made it quickly on paint to help show what I mean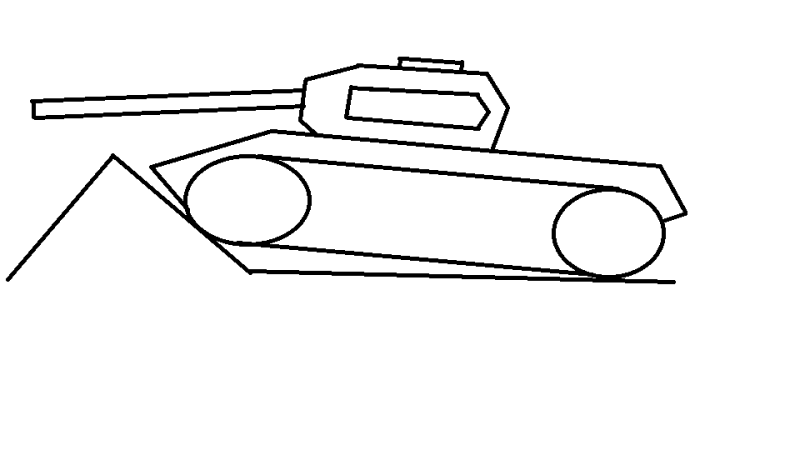 NOW the key most important factor here is when you are popping over a hill on NEVER poke enough out to hit a target then move straight back down and repeat. By the time you are back down you are ready to come straight back up with another shot. Although it seems logical to sit their with just the turret poking out DONT, the reload and accuracy on this tank allow you to kept moving back and forth, you are a much harder target to hit and I promise you will laugh when you see shots just skimming over the top of you constantly.

SECOND most important part, never pop out more than the lowest gun depression line, on your screen when you are at the lowest depression you will have the line, if you pop more than this out you expose your paper hull bottom. If you cannot hit a target without showing below this line do not try, just move to a different location of somewhere else on the hill with less of an angle.

and here is why the above works so well: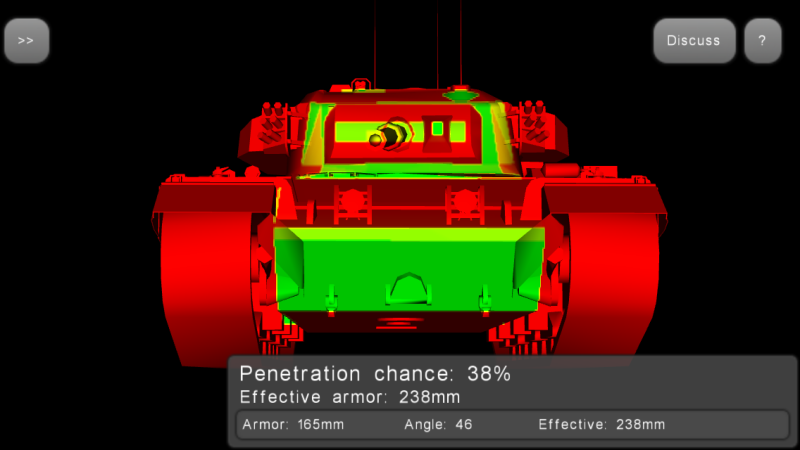 This photo shows the angle you will be at when using this tactic, NEVER EVER as mentioned above show the hull at this angle, as you can see the lower plate is paper thin so simply, do not show lower than the red bits, all that yellow is so bad news for you. Although with the above tactic you will rarely show any of the hull it does not matter an awful lot when facing lower or equal tier tanks when it comes to the very top of the hull, as you can see the effective armour goes up to 238mm thick with a very low penetration chance.

CAERNARVON TACTICS AND CENTURION SECONDARY TACTICS

In general when ever I am driving I will always try to drive these two tanks at this angle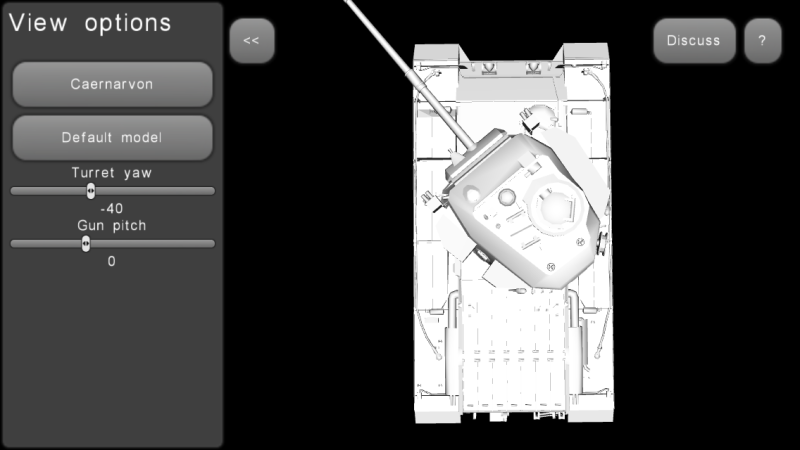 Basically 40 degree Yaw on the turret, if the turret is facing the enemy this is the most effect angle for fighting and for frontal armour thickness and for playing peek a boo with targets.

This is also very effective for the caernarvon and regardless of the paper hull it really does bounce a lot at this angle, in fact this works well in the Centurion and it will bounce a good few shots like this to but not as many as the Caernarvon. So if you are playing peek a boo from the side of buildings, rocks etc do the following.

You need to get basically a 40 degree angle for the best effectiveness with this tank, to get this angle look at the picture above where the gun lines up with the track, you need to replicate this location on your tank. Obviously in game you cannot work out the angle so you need to make a point of reference on the tank to line the turret up, I personally use the middle of the front track wheel, This is 40 degrees spot on, in doing so you only need to poke out of hiding just enough to show the gun and shoot, this also means only half the tank wheel is exposed to the enemy. The below photo also shows that the anyone shooting the front of the track wheel will not cause you any damage at all...but this will track you, if you are not in danger of being shot from another angle just leave it repair itself and keep your consumables for desperate needs.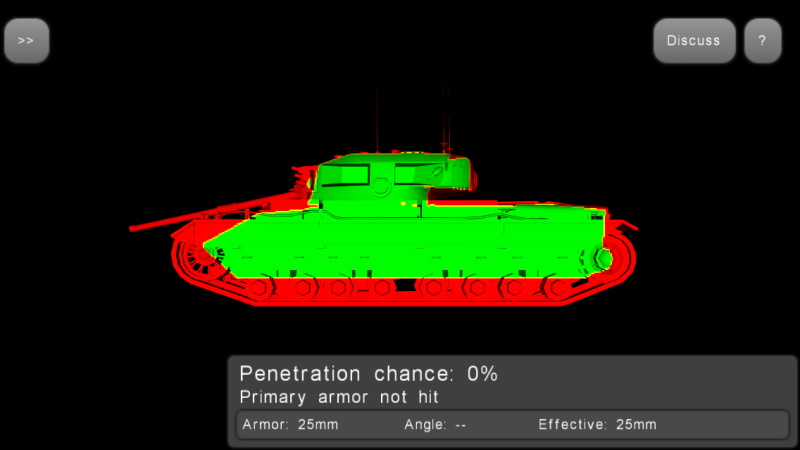 breaking down the armour at this stage the turret really is nothing to worry about as covered above:




Upper Hull plate at 40 degrees:




Again as you can see above, really nothing to worry about, most things shooting at this will bounce constantly, highly amusing as this upper plate will bounce an is4 shot as an example all day long

Lower hull plate at 40 degrees: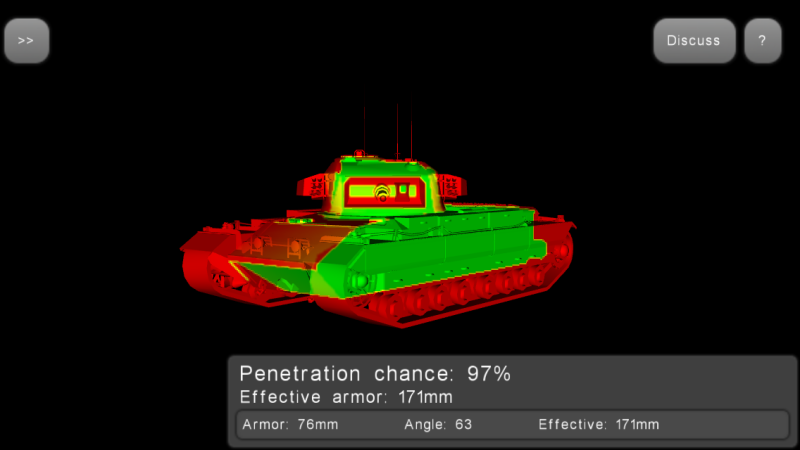 As we have already established the lower plate is just rubbish however as you see from the above photo we have increased the effective armour to 171mm, anything with a penetration value above this will penetrate you easily, but again this drastically limit the amount of tanks that will penetrate.

You will also see that at this angle we have reduced the amount of the lower plate you can see, the front wheel covers half of the plate so will absorb these shots anyway in the track, so you will get shot here but not as often you need a very accurate gun to hit you constantly here.

CONSUMABLES AND EQUIPMENT

- Consumables
1) First aid Kit
2) Repair Kit
3) Multi-Purpose Restoration Pack

Personally I use the above consumables and although it is more expensive I always use the Multipurpose to restore my tracks first because if I need it again I have the normal repair kit and if again after than it will be ready again and it will also be ready in the event of an ammo rack damage. Ammo rack damage and track damage are the two very common ones on this tank so always use these consumables. I have never exploded from an ammo rack on this tank it is only ever damage though

- Equipment
Gun Rammer −10% to loading time.
Tool Box: +25%to repair speed.

The above two are essential on this tank, the tool box really does help no end when it comes to the constant track damage. Ammo rack damage is often i find, once possibly twice every few battles not to the extent of track damage, I am happy to repair the ammo rack using the consumables and as a result like to use my third equipment as

Improvement Equipment +5% to all crew skills.

However if you are worried about ammo rack damage the Wet Ammo Rack really does help!


FINALLY

A lot of people say the caernarvon is a support tank, I really do not think so and use this tank aggressively and in the Centurion I love to flank and fire from afar, with the accuracy of the guns you can constantly pick away from the enemy, when they are low on numbers or health I always charge. Brilliant tanks overall but challenging to play well I think, which is why I think they are such underdogs as people expect to pull them apart easily so make silly mistakes.

As I said at the start I do not claim to be an expert but I really enjoy these two tanks and play them well.
 
Edited by sk8xtrm, 09 March 2015 - 12:57 PM.